Becoming an LFA Global Sponsor
Platinum Sponsors

Our thanks to The Education Abroad Network (TEAN) for being a Platinum Sponsor of Lessons From Abroad and providing the funding to make the LFA Internship position a reality.
Global Sponsors
Our thanks to SIT Study Abroad for being a key supporter and Global Sponsors of Lessons From Abroad.

Lessons From Abroad Global Sponsorship
The benefits of being a LFA Global Sponsor include:
Ability to register once for all active LFA conferences across the US
National reach to the approximately 1,500 students, staff and faculty who are involved with Lessons From Abroad
Recognition of LFA partnership through

Logo presence on LFA website
Brand presence at each regional conference (opportunities to exhibit, ship materials and/or passive marketing)
Logo presence in each regional conference handbook
Listing in the resources area of our website
Annual announcement of LFA global sponsors in newsletter (reaching 250+ education abroad professionals)
Highlight on regional social media accounts (Facebook, Twitter, etc)
LFA Global Partner icon for your website

Alumni profile on social media from particular organization (four times a year)
Access to a network of collaborative and dedicated professionals
Optional volunteer opportunities within LFA
Research and conference presentation opportunities
5 complimentary conference registrations for your organization's returnees
The Global Sponsorship fee is $3,500 annually (September 1-August 31).

Interested? Please complete the following form and send a check made payable to "Lessons From Abroad"
Lessons From Abroad, Inc.
℅ Katie Roller
2174 Pine Avenue
Long Beach, CA 90806
If you decide not to become a LFA Global Sponsor but still want to sponsor and/or exhibit at regional conferences, please contact the planning committee for each region directly for registration information.
Global Sponsor organizations are welcome to display the following logo on your websites: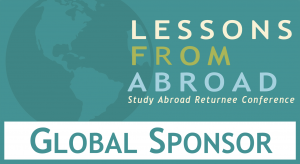 If you have any questions, please contact board@lessonsfromabroad.org