Rochester Area
If you have recently studied, interned, volunteered, or worked abroad, you are invited to the Lessons From Abroad Rochester Area Study Abroad Returnee Conference on September 30, 2017 hosted at SUNY Geneseo! This is a networking and career development opportunity where study abroad returnees representing colleges from the greater Rochester, NY area come together to connect, share, network and explore additional international opportunities.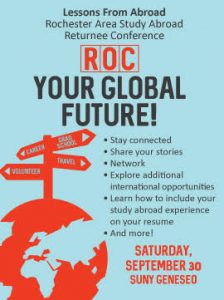 Participating area colleges include:
SUNY Geneseo
Rochester Institute of Technology
University of Rochester
SUNY Brockport
St. John Fisher College
Nazareth College
Roberts Weslyan College
Hobart & William Smith Colleges
Wells College
Alfred State College
Alfred University
Conference highlights include:
Meeting other recent study abroad returnees from all over the region
Hearing from dynamic and motivating keynote speakers
Learning how to talk about your newly acquired global skills in a job interview
Discovering how you can work or study abroad after graduation
Networking with professionals working in internationally-focused jobs
Staying connected to and sharing stories about your study abroad experience
This is a great opportunity to network with other students and professionals.  We ask that you dress business casual and bring several copies of your resume.
2017 Conference Schedule:
Saturday, September 30
9:30-10:00 am – Check in and continental breakfast
10:00-10:20 am – Welcome
10:30-11:20 am – Breakout Sessions I
Choose from 5 different sessions:
11:30 am-12:30 pm – Keynote Speaker
12:30-1:50 pm – Lunch, International Opportunities Fair, Resume Review
2:00-2:50 pm – Breakout Sessions II
Choose from 4 different sessions:
3:00-3:50 pm – Breakout Sessions III
Choose from 5 different sessions:
4:00-4:30 pm – Closing ceremony
Registration
Registration for LFA Rochester is now open!
Students may register by clicking here. Please note that this link is for students ONLY.
All others (staff, exhibitors, sponsors) may email rochesterarea@lessonsfromabroad.org to register.
We hope to see you there! If you have any questions, please email us at rochesterarea@lessonsfromabroad.org
The Lessons From Abroad Rochester Area Planning Committee