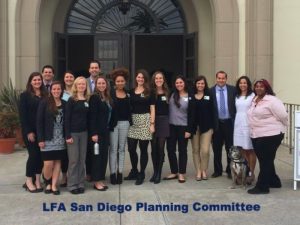 Congratulations on your recent voyage abroad!  We know you are excited and brimming with stories of your experiences abroad and insights into your host country's culture.  Might you be looking for a captive audience with whom to share those experiences, or are you seeking new ways to study, travel, or work abroad again?  If so, then we invite you to attend the Lessons From Abroad Returnee Conference! 
Sunday, Feb. 21st, 2016, 9:30am – 5:00pm, hosted at San Diego State University

Location:
San Diego State University
Aztec Student Union
5250 Campanile Drive
San Diego, CA 92182
Registration
Students please register for the conference here.
Online registration for students, exhibitors and day of volunteers will end on Wednesday, February 17th. We will not be able to accommodate on-site registration at this years conference.
Exhibitors & Sponsorship
Click here for exhibitor registration & conference sponsorship.
Note for Exhibitors: Set-up begins at 8:30 and we ask that a representative be present for the duration of the conference.
Photo Contest
All attendees are invited to enter the photo contest! Prizes will be awarded to the top three entries as well as the conference favorite.  You can view the submission requirements and rules here: LFA San Diego – 2016 Photo Contest

Follow SD Lessons From Abroad on Facebook for the latest updates.
Parking and Transportation
In order to take advantage of available free parking you must park in structure 6 (PS6).  You will not need a permit to park in that structure as long as you park in a student (S) or faculty/staff (FS) spot.  Once parked, make your way to the big bridge next to Tepeyac Hall.  Registration will be located on the other side of the bridge at the entrance to the student union.  More information about traveling to SDSU by car can be found here: http://arweb.sdsu.edu/es/campusinfo/directions.html
You can also take the trolley's green line directly to the SDSU Campus.  The trolley stop is right next to the student union and is listed on the map as "SDSU Transit Center."
Conference Schedule
9:30-10:00 am: Registration and Opportunities Fair
10:00-10:45 am: Welcome and Keynote Speaker
10:45-11:45 am: LeRetour: 'The Homecoming'
11:45 am-1:00 pm: Lunch and Opportunities Fair
1:00-1:45 pm: Breakout Session 1
Teaching Abroad
Graduate School Options at Home and Abroad
Bosh Bosh
2:00-2:45 pm: Breakout Session 2
International Careers for Science Technology & Business
Peace Corps
The ABCs of Teaching Abroad
Online-based International Entrepreneurs
3:00-4:00 pm: Showcasing Your Study abroad Experience (Resumes, Cover Letters and Interviews)
4:00 pm: Closing Cookie Ceremony
Conference highlights include:
Meeting other recent study abroad returnees from all over Southern California

Hearing from dynamic and motivating keynote speakers
Learning how to talk about your newly acquired global skills in a job interview
Discovering how you can work or study abroad after graduation
Networking with professionals working in internationally-focused jobs
Staying connected to and sharing stories about your study abroad experience
This is a great opportunity to network with other students and professionals.  We ask that you dress business casual and bring several copies of your resume.
Keynote speaker
The 2016 LFA San Diego keynote speaker will be author, advisor and investor Bob Hemphill.
Mr. Hemphill served as Executive Vice President and Chief of Staff to the CEO at AES, a global electric power generating and distribution company.  Hemphill was one of the three executives who began the company in 1981, growing it from a million dollar six person start up. Recently, Hemphill was the founder and CEO of AES Solar Power Ltd, a joint venture of the AES Corporation and Riverstone LLC. He has also been a senior policy official at the Department of Energy and Deputy Manager of Power at the Tennessee Valley Authority. Currently Mr. Hemphill is an advisor to two start-up solar companies, Wilson Solarpower and Glint Photonics. For more info on Mr. Hemphill's career please view his full professional bio.
Mr. Hemphill graduated Magna Cum Laude from Yale University and earned an MA from UCLA and an MBA from George Washington University.  He served as an airborne infantry officer in the US Army in Vietnam, and in the Special Forces.
His interests include feral cat domestication, unsuccessful participation in Final Four pools, sporadic exercise, competitive duck cooking and tribal art.
Contact Us
We hope to see you there! If you have any questions, please email us at sandiego@lessonsfromabroad.org
The Lessons From Abroad San Diego Planning Committee