SF Bay Area
Congratulations on your recent voyage abroad!  We know you are excited and brimming with stories of your experiences abroad and insights into your host country's culture.  Might you be looking for a captive audience with whom to share those experiences, or are you seeking new ways to study, travel, or work abroad again?  If so, then we invite you to attend the Lessons From Abroad SF Bay Area Returnee Conference on Saturday, November 11, 2017 at Skyline College.

*** ANNOUNCEMENT: AS OF 10/18, THE 2017 SF BAY AREA LFA CONFERENCE HAS BEEN POSTPONED TO 11/11 DUE TO WILDFIRES IN THE NORTHERN CALIFORNIA REGION ***
All participants affected by the fires will receive free registration – use promo code "FRESHERAIR" when registering. We apologize for any inconvenience that this postponement may cause and hope that you are able to attend the event on Saturday, November 11. Please help us spread the word to study abroad alumni and students interested in international education opportunities. Please contact us at sfbayarea@lessonsfromabroad.org if you have questions or need to request a refund due to this date change.
Conference attendees will:
Attend workshops on resume building, interview skills, and job search strategies

Connect with study abroad returnees to continue building a global network

Identify opportunities to work, intern, teach, study, or conduct research abroad

Gain insights to help students compete for scholarships and fellowships to go abroad again

Receive one-on-one feedback on resumes from professionals

Network with exhibitors representing programs and opportunities worldwide
This is a professional career development conference for study abroad alumni. Please come in professional, business attire.
Be sure to bring at least one copy of your current resume to meet with our professional resume reviewers who will give you one-on-one feedback from the perspective of a recruiter in the field. Bring multiple copies of your resume if you are interested in distributing them to the professionals you meet throughout the day.
If you do not already have a LinkedIn profile, we encourage you to create one and begin completing it with your experiences before the conference. This will help prepare you for the Rock Your LinkedIn Profile session. Attendees are highly encouraged to bring a laptop or other device to be able to take full advantage of the LinkedIn session. Please visit: https://www.linkedin.com/ to begin building your profile.
Registration & Schedule:
*NEW!* Click here to see the 2017 Press Release for the LFA SF Bay Area Conference! Details about registration, the keynote speaker, and the scheduled sessions can be found there.
Registration:
Exhibitors & Sponsors:
https://sfbayarealfaconference2017.eventbrite.com
Learn more about the various ways to support the conference by exhibiting, sponsoring a break, participating as a panelist and more! Check-in/table set-up starts at 10am with a light brunch provided!
Students, Program Alumni, Attendees, Groups:
https://sflfaconferencefall2017.eventbrite.com
Read below for more on how to prepare for and get the most out of your conference experiences as an attendee. One for $20, two for $30 (bring a friend!), group rate (5 or more for $10 each).
11:00 – 12:00pm    
Registration, Check-In, Opportunities Fair and Lunch
12:00 – 12:30pm
  WELCOME and Opening Icebreaker Workshop
12:30 – 12:40pm 
Break and Move to Session I Rooms
12:40 – 1:40pm

     

Session I, 3 workshops

(

select one

)
                                       Finding and Funding an International Graduate Program
                                       Room 206-204 (2nd Floor)
                                       Starting an Int'l Career and Strategies for Finding Jobs Abroad
                                       Professional Skills and Interviewing Secrets: Showcasing Your Experience Abroad
1:40 – 1:50pm
       Break and Move to Session II Rooms
1:50
– 2:50pm
Session II, 3 workshops (select one)
                                       Teach Abroad: Not Just for Future Teachers
                                       Putting Global Experience to Work: Professionals Who Profited
Fireside Main Room (1st floor)
                                       Professional Skills and Interviewing Secrets: Showcasing Your Experience Abroad
2:50 – 3:00pm
    Move to Global Session III
3:00 – 3:15pm
      Beverage & Snack Break
3:15 – 4:15pm
All-Conference Global Session, Rock Your LinkedIn Profile
4:15 – 5:00pm     Resume Review, International Opportunities Fair, Raffle, Closing
Exhibitors, Presenters, Volunteers and Sponsors are invited to our
Happy Hour Social

from

5 – 7pm
following the conclusion of the event to mingle and catch up with international education colleagues!
Stay Connected

Directions & Parking:
The Fall 2017 Conference will be hosted at Skyline College in San Bruno, CA in Building 6. For directions, please visit: http://www.skylinecollege.edu/maps/….
Parking is FREE at Skyline College (no permit required) for conference attendees, volunteers, presenters and exhibitors/sponsors.
We hope to see you there! If you have any questions, please email us at sfbayarea@lessonsfromabroad.org.
The Lessons From Abroad SF Bay Area Planning Committee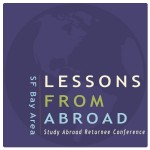 Past LFA SF Bay Area Conferences
02/2008, University of California – Berkeley (inaugural LFA conference)
02/2009, University of San Francisco
02/2010, St. Mary's College of Moraga
02/2011, City College of San Francisco
03/2012, San Francisco State University
10/2012, San Francisco State University
04/12/2014, City College of San Francisco
03/21/2015, Monterey Institute of International Studies
04/02/2016, Skyline College
More Links