SF Bay Area
Congratulations on your recent voyage abroad!  We know you are excited and brimming with stories of your experiences abroad and insights into your host country's culture.  Might you be looking for a captive audience with whom to share those experiences, or are you seeking new ways to study, travel, or work abroad again?  If so, then we invite you to attend the Lessons From Abroad SF Bay Area Returnee Conference on Saturday, October 21, 2017 at Skyline College.

Conference attendees will:
Attend workshops on resume building, interview skills, and job search strategies

Connect with study abroad returnees to continue building a global network

Identify opportunities to work, intern, teach, study, or conduct research abroad

Gain insights to help students compete for scholarships and fellowships to go abroad again

Receive one-on-one feedback on resumes from professionals

Network with exhibitors representing programs and opportunities worldwide
This is a great opportunity to network with other students and professionals.  We ask that you dress business casual and bring several copies of your resume.
Registration
Registration will open a few months before the event. Check back for more details.
2016 Sample Schedule of Conference Events:
11:00 – 12:00pm Registration, Check-In, Opportunities Fair, Resume Review and Lunch
12:00 – 12:30pm Welcome and Opening Icebreaker Workshop
12:30 – 12:45pm Break and Move to Session I Rooms
12:45 – 1:45pm Session I, 3 workshops
1:45 – 2:00pm Break and Move to Session II Rooms
2:00 – 3:00pm Session II, 2 workshops
3:00 – 4:00pm Resume Review, International Opportunities Fair, Photo Contest Winners, Raffle, Snacks, Closing
Session Topics

1) Professional Skills and Interviewing Secrets: Showcasing experience abroad in your job interview
2) Putting Global Experience to Work: Professionals who Profited: Hear from study abroad alumni who have turned their study abroad experiences into professional opportunities
3) Teach Abroad: It's Not Just for Future Teachers!
4) Finding and Funding an International Graduate Program or Research Opportunity
5) Starting an International Career and Strategies for Finding Jobs Abroad
Stay Connected

We hope to see you there! If you have any questions, please email us at sfbayarea@lessonsfromabroad.org.
The Lessons From Abroad SF Bay Area Planning Committee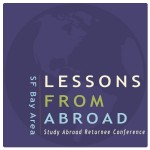 Past LFA SF Bay Area Conferences
02/2008, University of California – Berkeley (inaugural LFA conference)
02/2009, University of San Francisco
02/2010, St. Mary's College of Moraga
02/2011, City College of San Francisco
03/2012, San Francisco State University
10/2012, San Francisco State University
04/12/2014, City College of San Francisco
03/21/2015, Monterey Institute of International Studies
04/02/2016, Skyline College
More Links