Students
Do you have to pay to attend a Lessons From Abroad conference?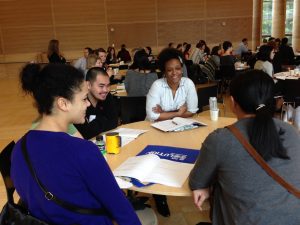 Students attending the conference are charged $15 for early registration or $20 for on-site registration, which includes lunch, conference admission, and a conference handbook. Sometimes schools are able to cover the registration costs for students or reimburse part of the registration fees for attendees. 
Professional staff pays $20, which includes lunch, conference admission, and a conference handbook. Conference scholarships are available for students and professionals who face financial hardship in returnee for volunteering at the conference. Contact your local conference chairs for more details.
What will I do at the conference?
Students will have the opportunity to meet other returnees from the area and share their experiences from their time abroad. You will start learning how to talk about their time abroad for the job search and how to put it on their resume. There will also be opportunities to learn about organizations and programs available after graduation for going abroad again and living an internationally-focused life. It is our hope that students will connect with each other following the conference and start building their professional network. The information we cover at the conference will often provide students with more questions than answers and allow attendees to reflect on various topics after the conference ends.
What is the dress code for the conference?
Students are encouraged to dress in business casual attire for the conference. The conference rooms can often be chilly, so attendees should bring a light jacket or sweater if they tend to be cold. Students are also encouraged to bring a copy of their resume and business cards so they can start forming their professional network.
How can I go abroad again?
Many students want to return abroad after their initial experience and we have a great resources area with information on grad school opportunities, volunteering, teaching, and working abroad.
Do you want a global career?
See what Peter Hancock, President and CEO of AIG has to say about the value of Studying Abroad.