Three Rivers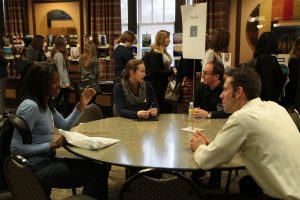 Congratulations on your recent voyage abroad!  We know you are excited and brimming with stories of your experiences abroad and insights into your host country's culture.  Might you be looking for a captive audience with whom to share those experiences, or are you seeking new ways to study, travel, or work abroad again?  If so, then we invite you to attend the Lessons From Abroad Three Rivers Returnee Conference. The next conference will take place in Fall 2017, so make sure to check back for details!
Conference highlights include:
Meeting other recent study abroad returnees from all over the Pittsburgh area
Hearing from dynamic and motivating keynote speakers
Learning how to talk about your newly acquired global skills in a job interview
Discovering how you can work or study abroad after graduation
Networking with professionals working in internationally-focused jobs
Staying connected to and sharing stories about your study abroad experience
This is a great opportunity to network with other students and professionals.  We ask that you dress business casual and bring several copies of your resume.
Registration
Register HERE
Poster Session Proposals
Enhance your resume, share your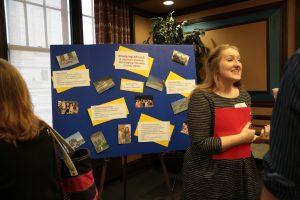 experiences, and win honors by submitting a poster proposal for the poster session. Posters will be judged and the winners will be honored with a certificate and prizes! Your poster should touch on this year's theme: Building Bridges. Some examples of this include:
Effective student programming by your study abroad university or program
Informal experiences that created cultural bridges
Personal experiences/revelations that helped you to bridge the cultural divide
How your "bridging" skills will affect your employment
In addition to a poster, you should be prepared to speak for 2-3 minutes about your poster.
Please submit your poster proposal to Jesse Phillips (phillipsj@rmu.edu) by October 7. Your proposal should include your name and home university, a 150-200 word summary of your poster topic, and the location where you studied abroad.
Click here for more information
Photo Contest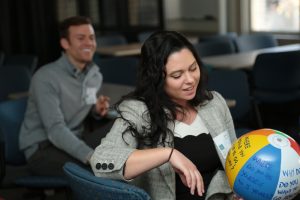 Study abroad alumni are encouraged to participate in our photo contest. Photos selected for the contest will be on display at the conference. All students in attendance at the conference will be able to vote for their favorite. The top photo in each category will receive a prize, and a fourth prize will be given for the best overall photo.
To enter the contest, please send your photo to Andy Kent at akent@iup.edu with a short description that includes the location, study abroad program, a brief caption, and which category (Landscapes/Architecture, Cultural Interactions, or
Diversity through Food) applies to your photo.
2016 Schedule

10:15 a.m. — Check-in/Registration/Photo Release (4th Floor)
10:15 – 11:00 a.m. — Opportunities Fair, Networking, Table Discussions, Poster Session & Photo Contest (Ballroom)
11:00 a.m. — Lessons From Abroad Goals for the Day (Ballroom)

11:15 a.m. – 12:00 p.m. — Career Focused Workshop (Ballroom)
12:00 – 1:00 p.m. — Plenary Lunch (Ballroom)
Welcome: Dr. Timothy R. Austin, Provost and Vice President for Academic Affairs, Duquesne University
Speaker: Michelle Fanzo
1:10 – 1:40 p.m. — Concurrent Session I (6th Floor)
Travel Blogging & Journalism
– Brice Lynn, University of Pittsburgh
Thinking Globally, Acting Locally
– Jonnet Mauer, PULSE
– Lori Frola, Peace Corps
1:45 – 2:15 p.m. — Content Session II
Fellowships, Scholarships and Grants
– Dr. Dana Poole, Washington & Jefferson College
Going Abroad Again
– Chad Buckwalter, Indiana University of Pennsylvania
– Dr. Nathan McElroy, Indiana University of Pennsylvania
Break

2:15 – 3:00 p.m. — Film Screening: Le Retour & Conference Closing Remarks (Ballroom)
We hope to see you there! If you have any questions, please email us at  threerivers@lessonsfromabroad.org
The Lessons From Abroad Three Rivers Planning Committee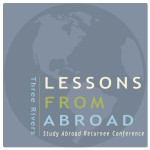 Past LFA Three Rivers Conferences
11/14/2015, University of Pittsburgh
10/29/2016, University of Duquesne
More Links
Three Rivers Conference Sponsors
Three Rivers Area Local Resources