Where are they now?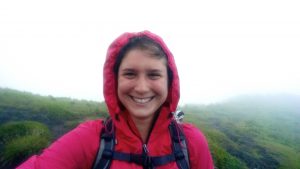 Name: Michaela Rubenstein
Graduation Year: March 2017
Study Abroad Location: Costa Rica
Time of Study Abroad: Fall 2015 (Junior Year)
Study Abroad Duration: 1 semester
Language Immersion: Spanish
LFA Conference Region: Washington
LFA Conference Date: Spring 2016
What are you doing now?
Going into my senior year, it has been almost a year since I returned. I work as a summer camp counselor at the Woodland Park Zoo in Seattle and trying to figure out how to tie it all together.
Did LFA help you get a job?
I think LFA even helped me get my current job at the zoo. When I mentioned that I studied abroad they were very interested. They liked that I had the option to use language. Language was a big part but also a level of responsibility and independence that comes with the study abroad experience. they were looking for counselors that didn't depend on bosses to do everything. When I described my experiences they really pulled out my independence and self reliability.
Did LFA help emotional transition?
It did. It was so wonderful. Once the conference was over I felt like I needed more of it. We talked about how people don't understand how we feel and that felt good. Still it didn't make talking to other people any easier. you know what to expect but the disappointment of them not understanding is still there. I wish there were a second conference right after or smaller follow up, maybe with the study abroad office.
Would you recommend the conference to other returnees? 
Yes! Not only because you are like oh look they are going through the same thing that I am. but coming back is so hard and they remind you that it's supposed to be hard. It is nice to have a real raw conversation about it. It was refreshing.
Name: Ellen Sundermeier
Graduation Year: Spring 2015
Study Abroad Location: United Kingdom
Time of Study Abroad: Fall 2014 (Senior Year)
Study Abroad Duration: 1 semester
LFA Conference Region: Nebraska
LFA Conference Date: Fall 2015
What are you doing now?
After I graduated and got connected with LFA it got me really interested in studying abroad again. Because of LFA I was able to connect with Across the Pond and they were just phenomenal in helping me work through the application process. After applying to five different masters programs in the UK I decided on University of York in UK for a masters in renaissance literature. I completed my Masters in December 2016 and got a job immediately at a boarding school in Southern England. After 6 months there I had visa issues and now I am at University of Nebraska Lincoln working as an admission counselor. I love connecting students to study abroad resources and plan to go back to the UK for a PHD.
Did LFA help you get a job?
I had so much more information about all of the opportunities that there are studying and working abroad in a lot of places you wouldn't expect. I am really grateful for Lessons From Abroad for connecting me to Across the Pond. It made the process 100 times easier than otherwise. I now know that if I can't get a PHD in the UK there are many other options for living and studying abroad thanks to LFA.
Did LFA help emotional transition?
I definitely had some reverse culture shock and had an adjustment back to living in the US and Nebraska again. Just to have a group of people who also had the experience of living abroad and readjusting to living at home was wonderful. Having a discussion of how that experience changed you was wonderful, as well as how to use the experiences abroad to help you in applying for jobs or going to school or just even sharing that experience with other people.
Would you recommend the conference to other returnees? 
Yes! I don't think I would have been able to go back abroad as quickly if it weren't for Lessons From Abroad.
Name: Elena Dipipi
Graduation Year: 2016
Study Abroad Location: Leuven, Belgium
Time of Study Abroad: 2014-2015
LFA Conference Region: Baltimore
LFA Conference Date: 2016
What are you doing now?
I am now in graduate school in Philadelphia getting a masters in professional clinical counseling. I am still looking for work at the moment. I still hope to work abroad at some point.
Did LFA help you get a job?
In some ways yes, I believe the cultural emphasis in my resume and in my personal statement enhanced my chances of being accepted to graduate school when I applied. It was important to emphasize that I was open to diversity as well as be open to different perspectives.
Did LFA help emotional transition?
It definitely made me feel better to know that my heartbroken syndrome was shared. It was just the idea of solidarity and knowing there were opportunities for me to go back and utilize those experiences whether through a career or more schooling.
Would you recommend the conference to other returnees? 
Yes!